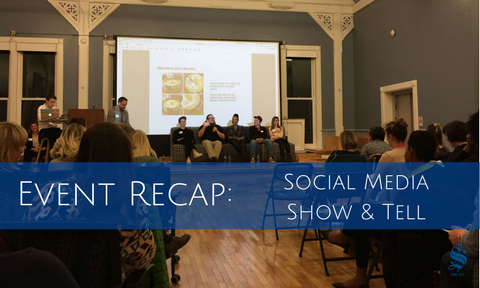 Recently I had the opportunity to attend Dooley Media's Social Media Show and Tell event. It was a gathering at Union Hall – one of many hubs for entrepreneurs in the Startup Cincy community. The subject is obviously social media but it's not your run-of-the-mill stuffy event. It was a relaxed and candid discussion.
Positioned as a "casual conversation about social media over a cup of coffee," more than 150 attendees gathered to hear five thought leaders share their experiences, tips and best practices.
The panel:
Levi Bethune – Creative Director, Storyteller & Brand Strategist
Lucrecer Braxton – Social Media Strategist, Event Programming & Podcaster
Nate Engels – Senior Marketing Strategist & Blogger
Christina Duccilli – Social Media Manager & Brand Stylist
Tim Schmoyer – Video Distribution Strategist & Consultant
The discussion revolved around three main topics: Visual Storytelling, Community Building and Customer Acquisition. There were so many gems shared during the event, that I've selected a few of my favorites to share.
On Visual Storytelling…
Take on your audience's perspective: Videographer Levi Bethune reminded attendees that other humans are on the other side of this (social media). Position yourself by viewing your content through the eyes of your audience; this will help to effectively convey your message.
To get people to view your stories, learn the algorithm for each platform you're using: Learning the preference of each platform will help you to break through the noise. For example, if you're utilizing Facebook – video is the preferred medium. It takes up more space than a text update and videos keeps people engaged longer than a photo. By uploading a video directly to Facebook (vs. sharing a link to a YouTube video) will also assist in gaining more views and expand your reach.
Authenticity is key: Although manipulation can be effective in the moment, it's not good in the long run. Tell your brand's true story. What do you want your customers to know or to understand? Most people don't join social media to speak directly to brands. You have to perceive your brand as a disruptor in the space.
On Community Building…
Practice listening to your community, but don't make assumptions: This speaks for itself.
Numbers kind of matter, but they don't? When it comes to numbers (analytics), there was indeed a mix of responses amongst the panel. Don't just make it your sole mission to chase numbers. When it comes to numbers it depends on the situation: pay attention to the numbers but also serve your audience well. Be concerned with your numbers but don't obsess over them constantly.
Give value to Influencers to grow your business: If you're thinking about connection with social media influencers in order to boost your brand, think about how you can provide value to the person instead of taking away. Start by building a relationship and actually learn about the person. And absolutely do not send a bland form letter to the influencers you're pitching – take time to customize your message to fit the personality and style of each individual.
On Customer Acquisition…
A little $ goes a long way…keep your budget scrappy when starting out: take advantage of free or low-cost tools such as Canva, PicMonkey and Snapseed to create graphics. You don't need the most expensive software on the market in order to get the job done.
Hashtags are designed for discoverability: find out how you can tap into popular hashtags and use ones that match your brand. Use a tool such as http://hashtagify.me to see what's currently trending.
Don't assume that people saw each and every post: social media is constantly moving so you'll have to post your content multiple times to get views. Using a social media scheduling tool such as Buffer or Hootsuite will assist in getting those multiple messages out to your customers.
Bonus Read: take a peek at my favorite social media tools!
There were so many case studies, quick tips and actionable advice offered that I couldn't include them all in this post! I would suggest checking out the next Social Media Show & Tell.
Do you have any experiences, tips or best practices around Visual Storytelling, Community Building or Customer Acquisition? Share them in the comments!