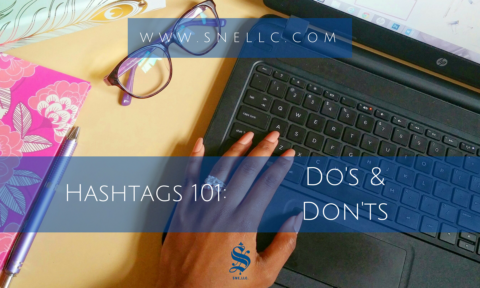 Hashtags are an online form of expression that has transferred to offline conversations. Appearing in text messages, on clothing, in popular songs, or skits on late-night shows, hashtags are everywhere you look.
According to our friend Google, a hashtag is "(on social media sites such as Twitter) a word or phrase preceded by a hash or pound sign (#) and used to identify messages on a specific topic."
On Wikipedia they're defined as: "a type of metadata tag used on social network and microblogging services which makes it easier for users to find messages with a specific theme or content." Those are the technical definitions but based upon my experience hashtags are great for:
Locating topics of interest (personal & business) – think awards shows, tv shows, sporting events

Indexing your social media posts (on platforms where hashtags are searchable)

Branding

Community building
So how do you utilize hashtags for your business or brand?
If you want to use hashtags for your business, here are a few do's and don'ts in order to make the most of this feature.
Do's
Research popular and trending hashtags that are relevant to your industry and add them to your posts. 

Create your own hashtags for your company. It makes it easier to organize and search your posts. It also provides branding consistency. Plus people can easily find you and share their posts using your unique hashtag. For example, I use #snellc and #mktggeek to brand the SNE LLC Blog. 
Have fun! Using hashtags can be a way to display your brand's personality with your readers.  

Experiment and test out combinations of hashtags to see which ones work the best together.

Based upon those experiments, note which ones receive the greatest response from your audience. 

It sounds silly but a hashtag isn't a hashtag without the hash mark/pound sign ("#")
Don'ts
Don't use spammy hashtags (any iteration of #LikeForLike). They're not good for business if you're seeking out AUTHENTIC followers (human followers, not robots).

No Punctuation/SymbolsOne exception – the underscore "_" works on (Facebook, Twitter & Instagram)

. 

If you use punctuation outside of the underscore the entire tag won't be searchable and will only highlights the letters prior to the symbols. 

Pro Tip: to easily identify words capitalize the first letter of each word. So your tag doesn't resemble an updated version of supercalifragilisticexpialidocious.

Instead,

#ItWillResembleSomethingLikeThis

Use numbers-only hashtags

There is an exception: numbers-only hashtags work on Instagram but not on Facebook

No Emoji-only hashtags

Exception: Emoji-only hashtags and emoji with text only work with Instagram
Resources for Additional Reading
Let's Talk!
Have you found other hashtag do's and don'ts? Have any questions about hashtags in general? Share them in the comments section below!
SaveSave
SaveSave
SaveSaveSaveSave